Back to Top
Marina Bay District Cooling network to be expanded, connected to five more developments
Marina Bay District Cooling network to be expanded, connected to five more developments
Written by Matthew Mohan
Source: https://www.channelnewsasia.com/singapore/marina-bay-district-cooling-network-be-expanded-connected-five-more-developments-2635271
SINGAPORE: The Marina Bay District Cooling network – which provides centralised cooling to developments in the area – will be expanded and connected to five more buildings, SP Group announced on Wednesday (Apr 20).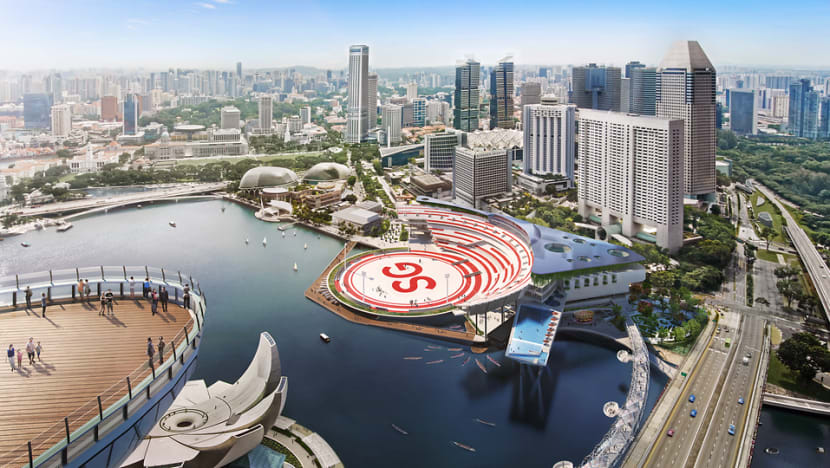 Artist's impression of NS Square. (Image: MINDEF, MND and WOHA Architects)
In a press release, SP Group said that the five developments are: 8 Shenton Way, the commercial component of 80 Anson Road, IOI Central Boulevard Towers, Marina Bay Sands Integrated Resort Expansion, and NS Square.
The addition of these developments will expand the world's largest underground district cooling network, bringing the total number of buildings served by SP's Marina Bay operations to 28, the utilities group said.
Marina Bay is planned as a sustainable district, and all developments are served by a comprehensive underground network of common services tunnels that house the district cooling system.
At an appreciation event on Wednesday to mark the expansion of the Marina Bay District Cooling network, Minister for National Development Desmond Lee presented certificates of appreciation to the owners of the five buildings.
The Marina Bay cooling network will help the district reduce its carbon emissions by 19,439 tonnes annually while providing the same "cool comfort", said SP Group. This is equivalent to removing 17,672 cars off the roads.
Since the cooling network started in 2006, it has also achieved zero supply disruptions, added SP Group.
With the inclusion of these new developments, SP will be increasing the capacity of the Marina Bay District Cooling network to 70,000 refrigerant tons. It will also add more than 2km of underground insulated pipes to the network to cater to additional demand and cooling capacity.
SP will continue to engage with potential customers to further expand the Marina Bay District Cooling network, it said. It is currently studying the feasibility of M Hotel Singapore being the first brownfield hotel development to incorporate district cooling in its operations.
"SP Group is the largest district cooling solutions provider in Singapore. With the expanded infrastructure in place, we are pleased to extend the same reliable and sustainable solution to other buildings in Singapore's core financial district and look forward to welcoming more partners to this network," said SP Group's chief executive officer Stanley Huang.
"Together, we can accelerate the development of greener buildings and cities to achieve Singapore's ambitious sustainability targets."
Jun 09 2022
CATEGORIES
There are no categories!
FEATURED POST

Sustainability and Climate Change – A Global Approach
There are no posts!
December
January
February
March
April
May
June
July
August
September
October
November
December
2022
2022
2023
2024
2025
2026
2027
2028
2029
2030
2031
2032
2033
2034
2035
2036
2037
2038
2039
2040
2041
2042
2043
2044
2045
2046
2047
2048
2049
2050
| Mon | Tue | Wed | Thu | Fri | Sat | Sun |
| --- | --- | --- | --- | --- | --- | --- |
| 28 | 29 | 30 | 1 | 2 | 3 | 4 |
| 5 | 6 | 7 | 8 | 9 | 10 | 11 |
| 12 | 13 | 14 | 15 | 16 | 17 | 18 |
| 19 | 20 | 21 | 22 | 23 | 24 | 25 |
| 26 | 27 | 28 | 29 | 30 | 31 | 1 |
12:00 AM
01:00 AM
02:00 AM
03:00 AM
04:00 AM
05:00 AM
06:00 AM
07:00 AM
08:00 AM
09:00 AM
10:00 AM
11:00 AM
12:00 PM
01:00 PM
02:00 PM
03:00 PM
04:00 PM
05:00 PM
06:00 PM
07:00 PM
08:00 PM
09:00 PM
10:00 PM
11:00 PM