Back to Top
Myths vs Truths about Centralised Cooling
You may have heard of some myths about Centralised Cooling – read on to find out more about the truths behind the myths!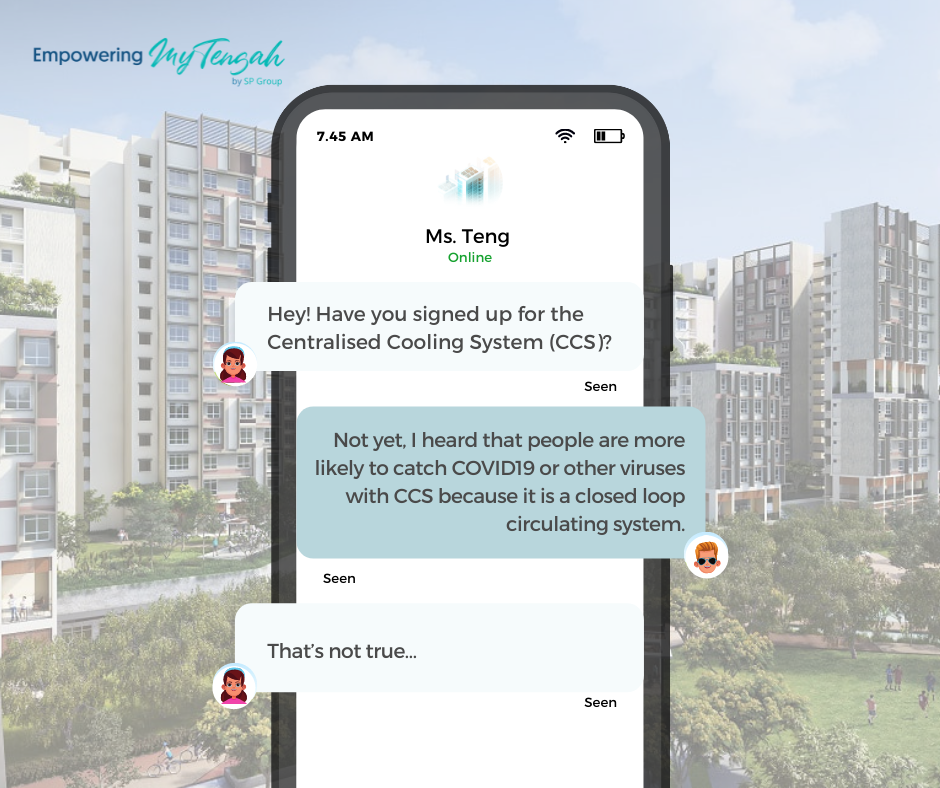 TRUTH
If you're wondering whether Covid19 can spread through the Centralised Cooling System (CCS), you have nothing to worry about! The CCS is a closed circulating system which has ZERO direct contact with air. Cool air is produced locally in the indoor cooling unit located in each house, much like conventional split unit air conditioners.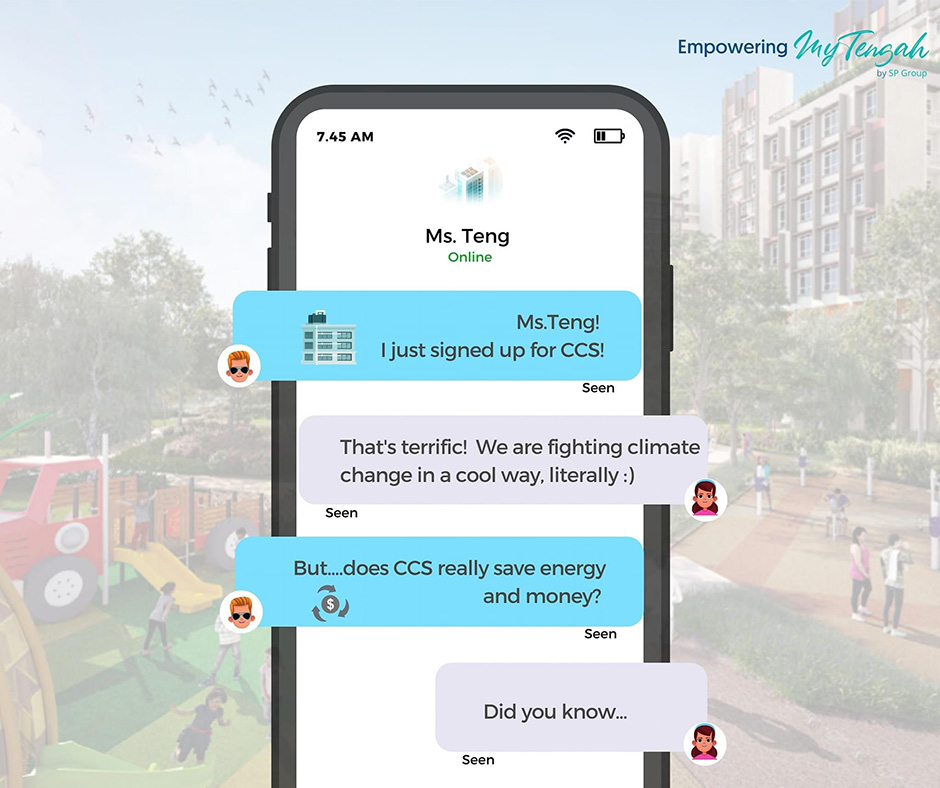 TRUTH
Water-cooled technology used in CCS operates more efficiently, up to 30% compared to conventional split unit systems.
With our track record since 2006, SP Group has been running the world's largest underground district cooling systems in the Marina Bay area.
In Tengah, Singapore's first eco-smart town, this same proven concept will be used in CCS to provide sustainable cooling to beat the heat while allowing you to enjoy up to 30% lifecycle savings.
CCS allows you to enjoy energy and cost savings, as well as to save the planet for generations to come.
TRUTH
The aesthetic look and placement of the CCS indoor units and piping is almost identical to conventional split-unit air conditioners. It's also carefully designed and pre-installed* to ensure optimal cooling and thermal comfort in your home, while allowing you to save cost and the planet!
Still firming up your renovation plans? We are happy to consult and address these with you so that the CCS placement can suit your lifestyle. You won't have to worry about the CCS throwing off the aesthetics of your home.
*If signed up before specified cut-off dates prior to key collection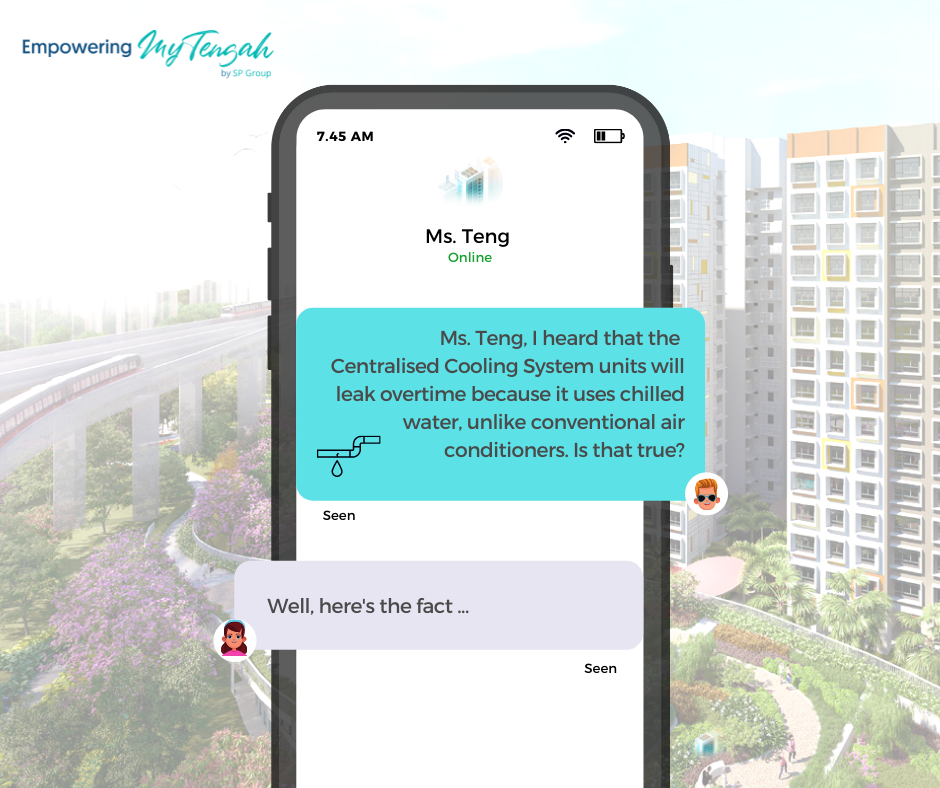 TRUTH
CCS is built with high-quality materials to ensure optimal cooling, reliability and longevity of the system whilst you and your family go about your daily lives with peace of mind.
Specially designed to prevent water leakages. The indoor units use high-quality insulation materials such as Mechfit PEX pipe fittings made in Japan, as well as Germany-imported pipes that have an expected lifespan of over 40-50 years.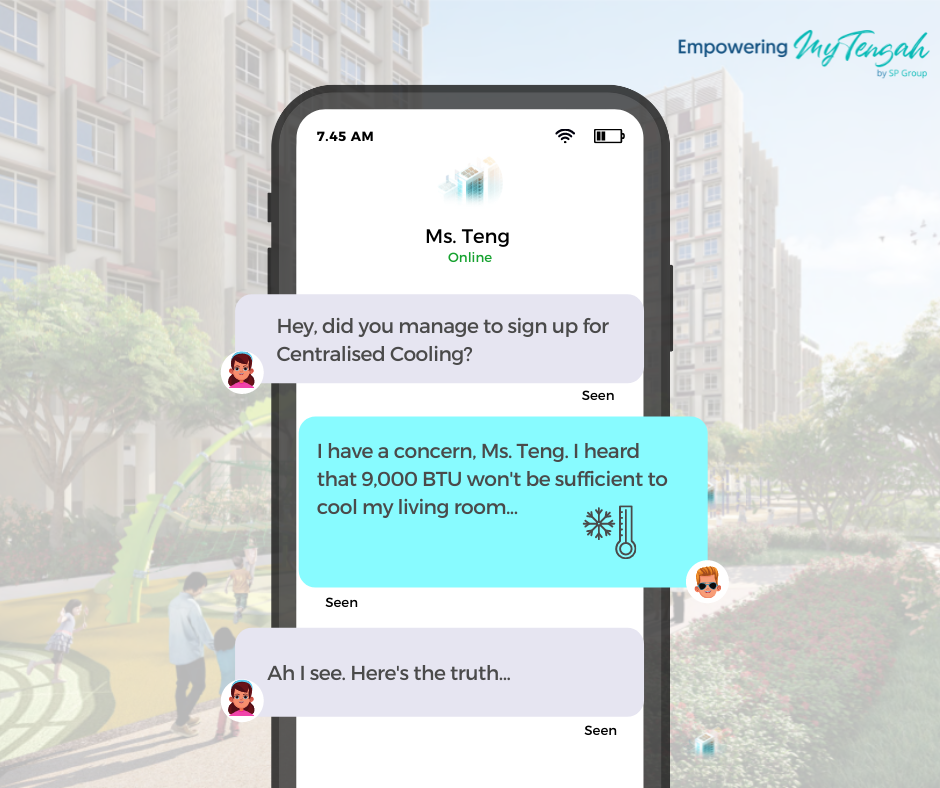 TRUTH
According to an article by Forbes Home, small rooms of 150 sq ft and below will be sufficiently cooled with about 5,000 BTU (British Thermal Unit). For larger rooms of up to 400 sq ft, such as the living room, you'll need about 9,000 BTU. If you want to cool your home efficiently, you'll need to choose an air conditioning system of the right capacity.
Split-unit air conditioning systems depend solely on the condensers to supply cooling and require high maintenance. They may not deliver the desired cooling capacity when all indoor units are simultaneously switched on. On the other hand, CCS uses commercial grade energy-efficient chiller plant towers and is designed to reduce redundancy and deliver reliability. CCS will help you save on electricity bills and maintenance fees, and you won't have to worry about insufficient condenser capacity.
Wish to find out more? Click on "Schedule a Visit" tab on the right to arrange an appointment with us today, or sign up here.