Back to Top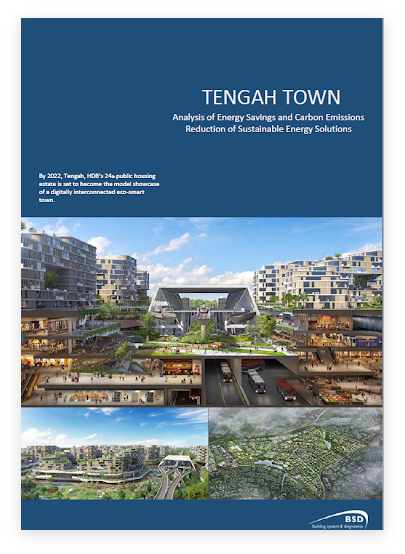 Tengah will feature several "first-of-its kind" smart-energy innovations including being Singapore's first public housing with centralised cooling preinstalled into homes.
The "Tengah Town" report assesses the energy savings and carbon emissions reduction from these innovations when it is being implemented individually or integrated at town and national levels.
The report shows that Centralised Cooling uses much less energy than conventional split-unit air conditioners.
The Centralised Cooling System (CCS) in Tengah is an environment-friendly cooling alternative which offers up to 30% energy efficiency. You will get to enjoy cool air and save money while mitigating an ozone depleting impact on our environment.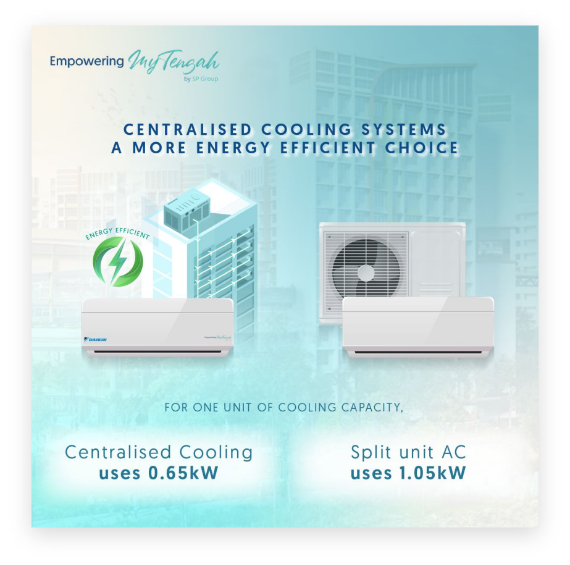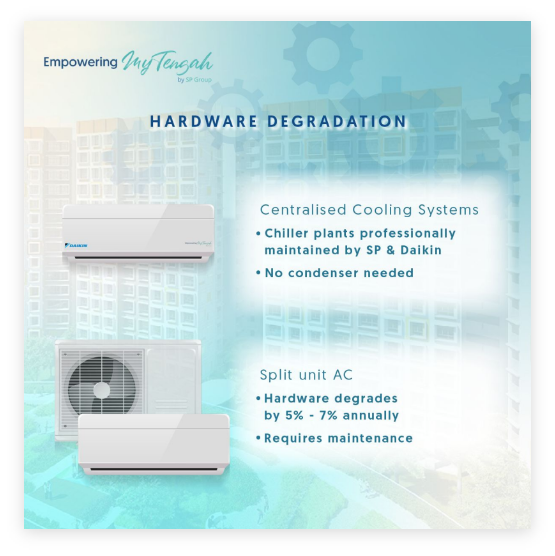 Split-unit air conditioners suffer from hardware (condenser) degradation which causes energy efficiency to reduce by an average of 5% to 7% annually. This means that every year, these systems consume more energy in order to operate at optimal capacity. ​
CCS has no condensers. It uses chiller plants which are efficiently interconnected in modular clusters and professionally maintained by SP and Daikin specialists 24/7. Hence, CCS users can enjoy peace of mind. ​
CCS is also designed with highest-quality materials to further ensure consistent energy efficiency.​
Find out more in the "Tengah Town" report - email us at tengahcooling@spgroup.com.sg to receive a copy of the report.
Learn more about Tengah's centralised cooling systems here.
December
January
February
March
April
May
June
July
August
September
October
November
December
2022
2022
2023
2024
2025
2026
2027
2028
2029
2030
2031
2032
2033
2034
2035
2036
2037
2038
2039
2040
2041
2042
2043
2044
2045
2046
2047
2048
2049
2050
| Mon | Tue | Wed | Thu | Fri | Sat | Sun |
| --- | --- | --- | --- | --- | --- | --- |
| 28 | 29 | 30 | 1 | 2 | 3 | 4 |
| 5 | 6 | 7 | 8 | 9 | 10 | 11 |
| 12 | 13 | 14 | 15 | 16 | 17 | 18 |
| 19 | 20 | 21 | 22 | 23 | 24 | 25 |
| 26 | 27 | 28 | 29 | 30 | 31 | 1 |
12:00 AM
01:00 AM
02:00 AM
03:00 AM
04:00 AM
05:00 AM
06:00 AM
07:00 AM
08:00 AM
09:00 AM
10:00 AM
11:00 AM
12:00 PM
01:00 PM
02:00 PM
03:00 PM
04:00 PM
05:00 PM
06:00 PM
07:00 PM
08:00 PM
09:00 PM
10:00 PM
11:00 PM