Back to Top
What is it like living with Centralised Cooling in Tengah?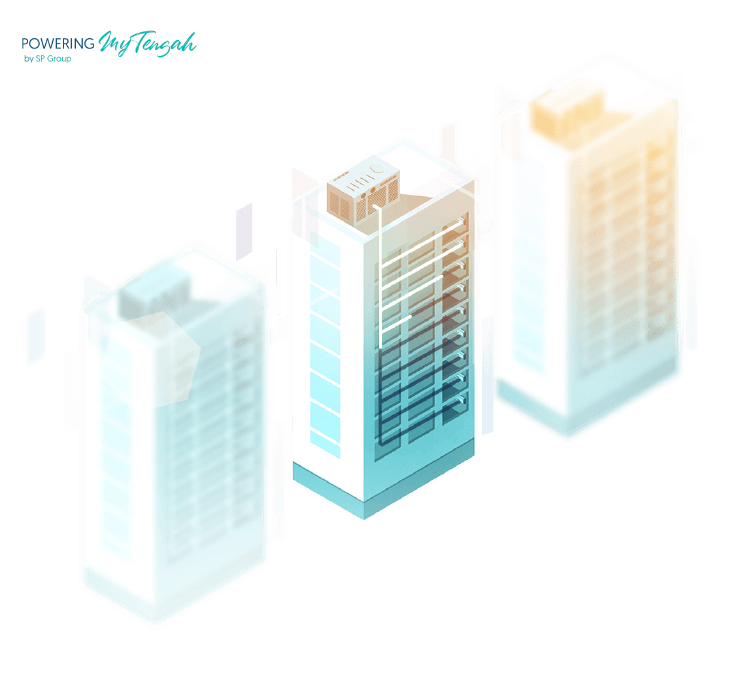 The Centralised Cooling System (CCS) is unique to Tengah. Not yet available to any other residential estate in Singapore , residents living in Tengah will be the first to have their homes cooled by CCS. As convenient as turning on a tap, residents can enjoy air conditioning that is both cost-effective and energy-efficient – sustainable cooling. In this episode, learn what it will be like to live with CCS in your HDB home.
Using centralised cooling
At first glance, centralised cooling units look no different than the conventional split-unit air conditioning that Singaporeans are used to. Centralised cooling uses indoor cooling units, same as regular aircon, to release cool air into homes.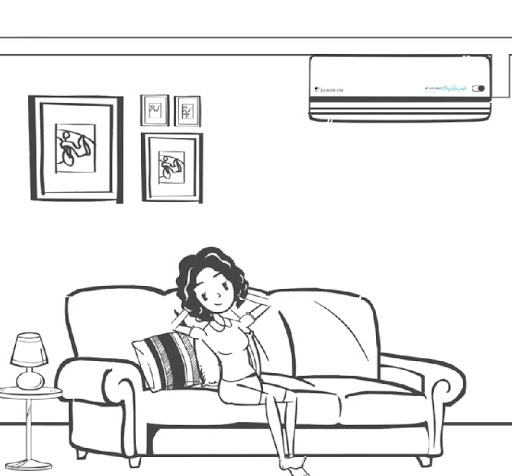 Using a smart control remote available through the SP Utilities app , residents can adjust indoor cooling settings to suit their best thermal comfort. The smart control has inbuilt features that allow you to control and monitor your unit while you are away from home, so you can perform actions like switching on your aircon even before you reach home to enjoy a pre-cooled home . And if you forget to turn off your aircon after leaving the house, don't worry – simply connect to wi-fi and use the app to switch it off.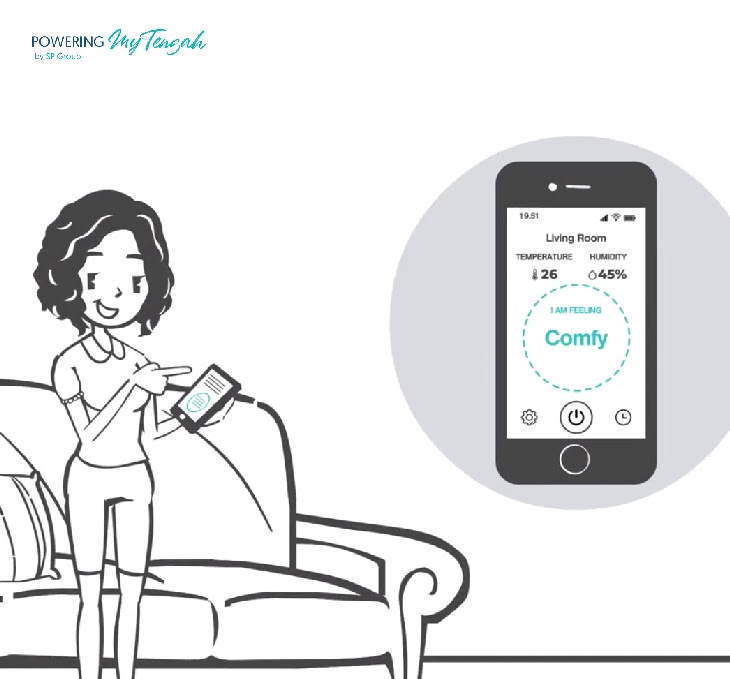 Each month, you will receive a bill for your actual usage, just like for electricity and water. You will have a CCS BTU that measures the exact amount of chilled water you have used for your preferred indoor cooling. Smart controls on the app allow you to view exactly how much cooling you are using in your home, on a daily and even hourly basis. With access to your cooling usage over time, you can adjust how often you turn on the aircon to better save energy, or be alerted to unusual spikes in energy usage that might indicate the need for aircon maintenance. Everything is super easy and accessible with CCS's smart technology!
Cooling with centralised cooling
Centralised cooling is not only easy to use, but it also cools more efficiently compared to split-unit air conditioning. Because it uses chilled water for cooling instead of being air-cooled and refrigerant, you can expect energy efficien cy to increase by up to 30%.
How is this possible? Conventional split-unit aircon have the individual indoor units connected to outdoor compressors and use refrigerant to remove heat through this system. Since these outdoor condensers are small and close to the wall, limited airflow or air exchange occurs. Over time, this can also cause outdoor units to be inefficient. The heat released from below units also rises up so that the efficiency of the units may decrease further at higher floors. This is commonly known as the stack effect.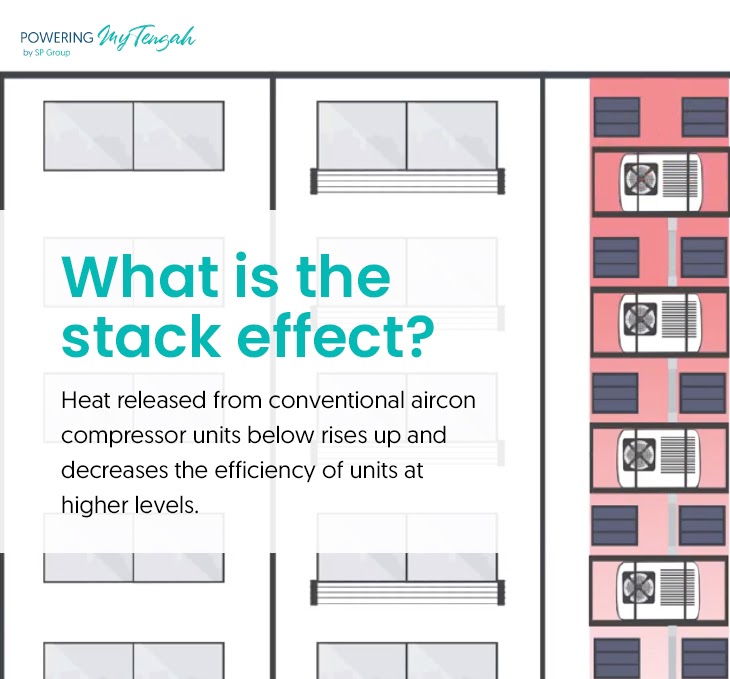 On the other hand, centralised cooling uses a highly efficient commercial grade chiller on the rooftop that produces chilled water piped directly to your indoor unit. Warm air in your room is passed through the indoor unit and over these chilled water pipes, cooling the air before releasing it back into your home.
The heat from the warm air is transferred into the chilled water network, piped back to the commercial chiller on the roof and released into the surroundings.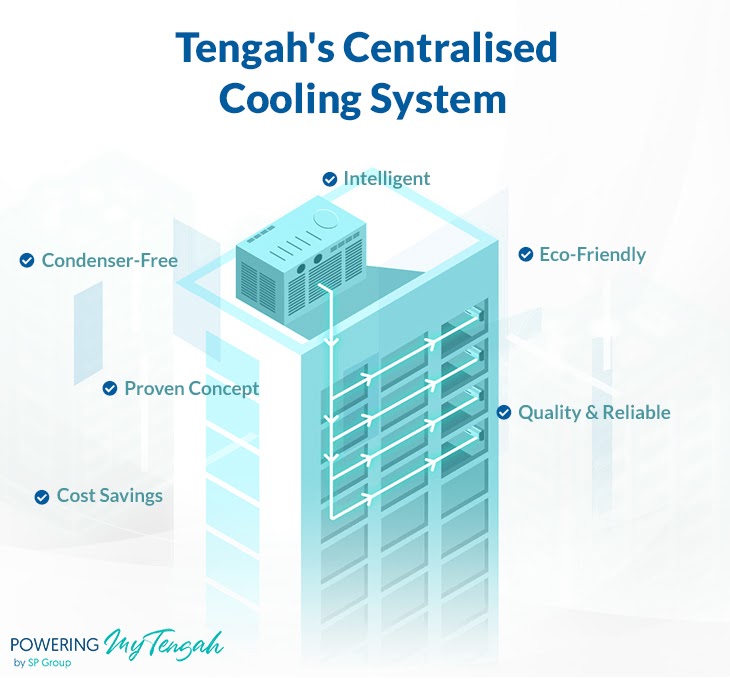 All in all, future Tengah residents will have a hassle-free experience with the Centralised Cooling System while saving costs and the planet!
This is the first in the series of Centralised Cooling System (CCS) Explainer Videos, telling you all about how the CCS in Tengah works. In this first episode, we shared what it is like living with CCS and the ways in which it is different from split-unit air conditioning. Stay tuned with us for episode two.
Jul 05 2021
CATEGORIES
FEATURED POST

Sustainability and Climate Change – A Global Approach
There are no posts!
December
January
February
March
April
May
June
July
August
September
October
November
December
2022
2022
2023
2024
2025
2026
2027
2028
2029
2030
2031
2032
2033
2034
2035
2036
2037
2038
2039
2040
2041
2042
2043
2044
2045
2046
2047
2048
2049
2050
| Mon | Tue | Wed | Thu | Fri | Sat | Sun |
| --- | --- | --- | --- | --- | --- | --- |
| 28 | 29 | 30 | 1 | 2 | 3 | 4 |
| 5 | 6 | 7 | 8 | 9 | 10 | 11 |
| 12 | 13 | 14 | 15 | 16 | 17 | 18 |
| 19 | 20 | 21 | 22 | 23 | 24 | 25 |
| 26 | 27 | 28 | 29 | 30 | 31 | 1 |
12:00 AM
01:00 AM
02:00 AM
03:00 AM
04:00 AM
05:00 AM
06:00 AM
07:00 AM
08:00 AM
09:00 AM
10:00 AM
11:00 AM
12:00 PM
01:00 PM
02:00 PM
03:00 PM
04:00 PM
05:00 PM
06:00 PM
07:00 PM
08:00 PM
09:00 PM
10:00 PM
11:00 PM